Both the traditional 16km and a new 22km course are available.
NEWSFLASH 20 May 2022 – Route Change
The Two Creeks track in East Lindfield has been damaged by all the rain over recent months and is presently closed. Unfortunately, it will not reopen before we run the 2022 edition of the NOSH.
Event organisers have therefore been working closely with National Parks and Wildlife to develop an alternative route.  We have come up with a route that we trust runners will enjoy.  New course lengths will be very similar but slightly shorter.  We expect that the run experience will be very similar.  From Davidson Park, runners will head north on a service trail and then return to the Park before crossing under the eastern side of Roseville Bridge and connecting with the Flat Rock Beach Track.  From there the route is unchanged.
The start for this year's event will now be at Davidson Park within Garigal National Park. To quote National Parks, Davidson Park has "large open grassy areas, free barbecues and a stunning Middle Harbour Creek backdrop". There is plenty of parking as well as amenities within the Park. Note though that there is a vehicle access fee of $8 per vehicle (unless you have a National Parks pass).
Start times remain unchanged.
Transfer bus departure times from Seaforth remain unchanged.
All finish arrangements at Seaforth Oval remain unchanged. Yes, Seaforth Football Club are putting on their barbeque again 😊.
We will issue a more comprehensive email to all registered runners prior to the event.
Whilst this late change isn't ideal, we hope that you will roll with us as we are turning a few somersaults to ensure that the run goes ahead on the 5th.  Thank you to all runners for your flexibility and also to National Parks for working with us to ensure that the run can go ahead.
NOSH16 (the 2022 route will be the same from Roseville Bridge onwards)
(and first portion of NOSH22)
This is the classic NOSH course. It's picturesque and challenging but achievable. We offer both a running and a walking class over this distance.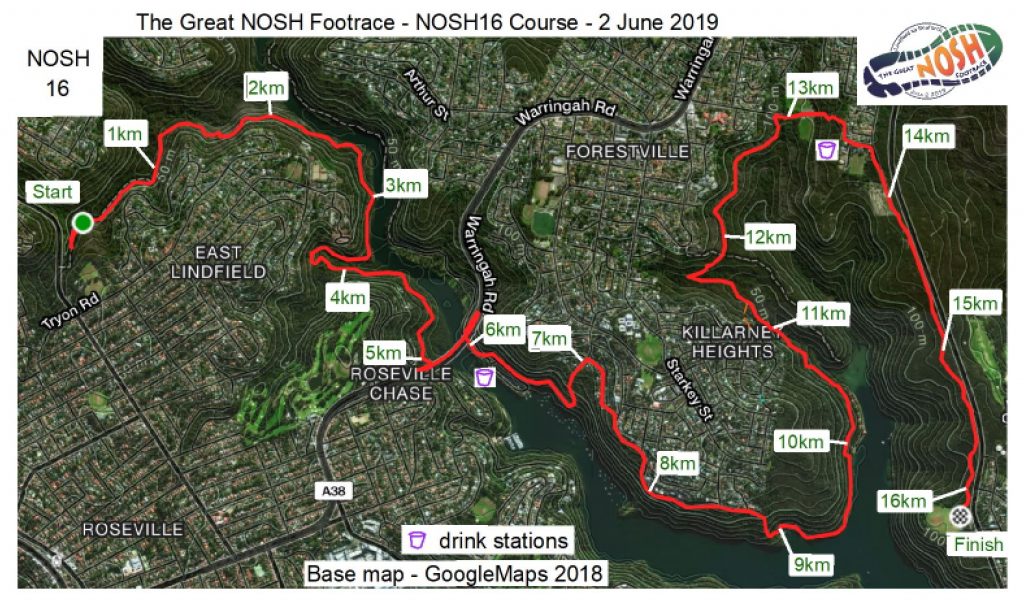 The race starts at Lindfield and winds it way along picturesque water edge trails to Roseville Bridge. After crossing the bridge, the course then takes runners through Killarney Heights and includes trails through Garigal National Park that climb to Forestville before finishing at Seaforth Oval.
The course is primarily off road and the terrain is rough in places so you need to watch where you place your feet. This is a natural bush track, not pavement, so there will be tree branches and roots. Please take care as falls and sprained ankles do happen. Times are considerably slower than on flat or smooth terrain.
Due to an extended closure of part of the Flat Rock Track by National Parks there will be a detour to our traditional course. The current course length is a touch over 16km. It is the same route as used since 2016. The current route includes an additional climb to take in beautiful middle harbour vistas from Killarney Heights.
There are only three locations where you will run beside public roads: firstly across the pedestrian path on Roseville bridge and down the ramp on the eastern side (which is the exit from the National Park), secondly, on the Killarney Heights detour and, thirdly, a couple of blocks in quiet, suburban Forestville. You must obey the course marshals directions, and keep to the left of all traffic cones.
The course will be marked by streamers and kilometre markers.
NOSH 22 (the 2022 route will be the same from Roseville Bridge onwards)
This course option was introduced in 2019 and offers a more challenging run.
The first 16 kilometres are the same as for the NOSH16 however when runners almost emerge from the forest in Seaforth, these legends will dive back into the trails for another 6km loop. The loop heads down hill on the historic Timbergetters Track to Bantry Bay before crossing some creeks and climbing through forest and rock back to Forestville. Runners then return to Seaforth Oval for a grand finish.

The additional loop is rough and steep in places and adds a further 130m of climb to the run. It is only suited to runners who have trained up and are prepared for a tough 22 kilometres of trails.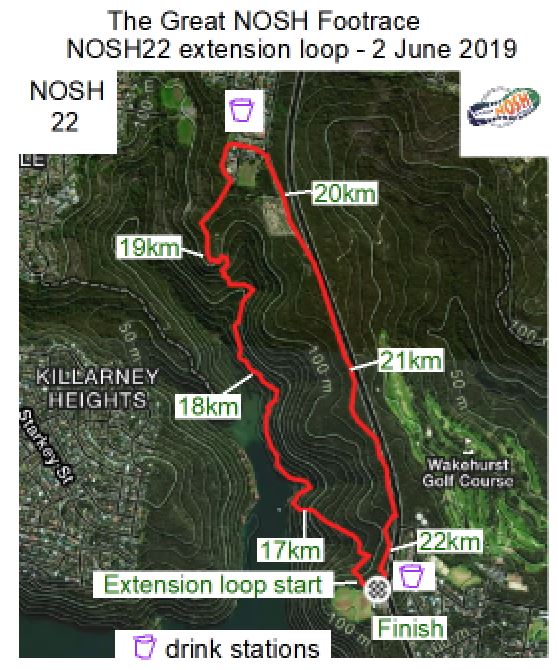 REGISTRATION AND START
Prior to starting the race, all entrants must register and collect their race bibs. Options for registration and bib collection are included on the Event Information page. Race day registration is at Lindfield Soldiers' Memorial Park, Tryon Road, Lindfield from 8:30am.
The race start is on Two Creeks Track, down the hill and to the north of the Grandstand. Allow a 10-minute walk to get to the start which will be marked.
At the start, please queue along the track with fastest runners at the front and walkers at the rear. There is no need to hurry to cross the line as your race time will only start when you cross the line.
We do however encourage faster runners to self-seed and start at the front of the pack. This will lead to less need to pass slower runners and also the fastest runner on the day will also be the first runner to cross the finish line.
WATER STATIONS
All runners are encouraged to be self-sufficient for both hydration and nutrition needs.
For emergency water supplies, there will be three water stations. One at the 6km mark on the eastern side of Roseville bridge, one at approximately 13.5km in Forestville (at the Girl Guide Hall) and one close to the finish when the 22km runners commence their bonus loop.
Environmentally friendly paper cups and water will be available however runners are encouraged to carry their own reusable drink containers and refreshments.
CUT-OFF TIMES
A sweep will follow the back of the field. Cut-off times will apply based on all runners or walkers reaching Seaforth ahead of a 1:30pm course closure. If you fall behind the sweep, you will not make Seaforth before official timing closes and will be disqualified.