RACE DAY: SUNDAY 5 JUNE 2022
COVID-19
PLEASE CHECK BACK HERE OR ON THE EVENT FACEBOOK PAGE IN THE LEAD-UP TO THE EVENT AS EVENT ARRANGEMENTS COULD CHANGE ON SHORT NOTICE DUE TO COVID-19.
RACE DAY SCHEDULE
8:30am
Davidson Park registration opens
8:30am
Morning bus departs from Seaforth for Davidson Park
9:30am-9:40am
Davidson Park start – NOSH 22
10:00-10:10am
Davidson Park start – NOSH 16
11:00-1:00pm
Seaforth BBQ
12:15pm
(or as soon as final results are available)
Runner presentations at Seaforth
1:00pm
Afternoon bus departs from Seaforth for Davidson Park and Lindfield
1:15pm
(or earlier if possible)
Walker presentations at Seaforth
1:30pm
Course closure/timing ceases
RACE TIMING
Electronic timing will be used. Your race time will start when you cross the pad at the start line. Timing will stop when you cross the pad at the finish.
All runners must wear the race bib with timing chip attached.
RACE BIBS AND REGISTRATION
All runners will receive a race bib that must be worn. Personalised bibs will be printed for all participants that have pre-entered the event.
Runners may collect bibs and register at:
the Pymble Saturday Orienteering Series event on Saturday 4 June 2022;
on the morning bus IF you have pre-registered on the bus; or
the registration desk at the start on event morning.
MERCHANDISE
Event shirts can be ordered via the entry platform. Choose from a singlet, tee-shirt or long sleeve tee version in both male and female cuts. The garments are all made locally in Australia from a coolmax material that is 97% recycled! It is a very breathable fabric with moisture wicking capabilities as well as an antibacterial treatment that's perfect for runners.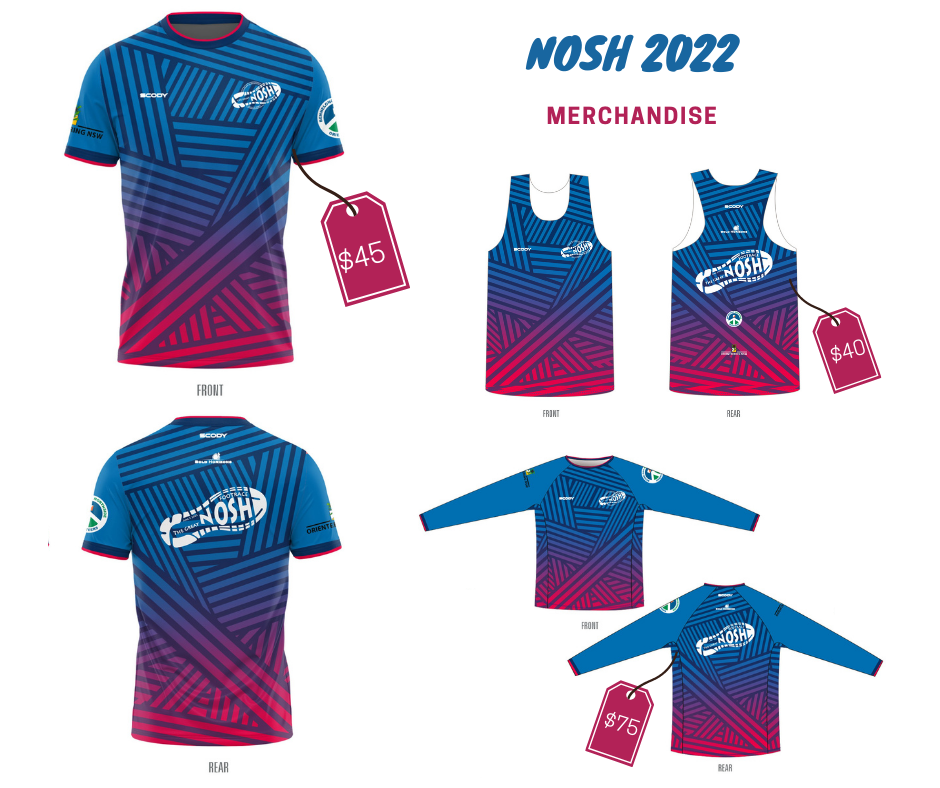 PRIZES
All finishers will receive a Finishers Medal at Seaforth.
First place-getters for each age category in Running Men and Running Women categories will receive a special limited edition NOSH cap.
All podium places (1st, 2nd and 3rd) as well as event volunteers will receive a famed NOSH mug. The mugs are a tradition of the NOSH and are unique each year. Plus there will also be some lucky draw prizes of NOSH mugs at the presentation ceremony. The mugs are not for sale.
Note that placegetter prizes will not be mailed out. All winners must be at the presentations to collect their prizes.
BUS TRANSFERS
We are pleased to offer the option of an air-conditioned bus transfer from Seaforth Oval to teh start.  The afternoon bus will also connect to Lindfield train station. The bus can be booked and paid for ($25 per head) when you enter. Seats are limited and bookings will close when the bus is full.
There are two options for the bus:
1. Pre-run – 8:30am departure from Seaforth Oval to Davidson Park.  A bonus of being on this bus is that you can collect your race bib from the Bus Captain and avoid the queue at the start.
If you are planning on running the NOSH 22, please catch the afternoon bus back rather than rushing on this bus or make your own transfer arrangements;
or
2. Post-run – 1:00pm departure from Seaforth Oval to Davidson and then Lindfield Train Station.  Save time on race morning and then enjoy the post-race bbq and presentations before taking the return trip back to your car at the start or the Lindfield train station.
Competitors are also welcome to make their own independent transport plans. Public transport between the start and finish locations is technically possible using standard Sydney Bus routes but is not recommended as the service is only hourly and requires at least 2 bus changes.  At the finish there are various buses that pick up from Wakehurst Parkway and connect to Wynyard, Manly, Frenchs Forest and other destinations.
If you wish to make your own travel arrangements we recommend you park your car at the start or finish and get a friend to give you a lift or organise a car shuffle with other competitors. Please feel free to use The Great NOSH Footrace FaceBook page to find other competitors that you may be able to car share with.
GEAR TRANSFER
A complimentary gear transfer service from the start to Seaforth will be offered. You may leave a small labelled bag of personal items at the gear drop at the start and we will arrange transport of your bag to the finish line. Whilst all care will be taken, we cannot make any guarantees in relation to security of your gear or breakages. If it is wet, we will do our best but your bag may get wet.  Please don't leave any valuables in your bag to be transported.
REFRESHMENTS
Need a pre-run caffeine hit? A coffee van will be at Lindfield pre-race.
The Seaforth Soccer Club will be running a BBQ from 11am and will have their canteen open selling a range of hot food, chips, lollies and drinks. The club will also have barista-made coffee available.
We encourage all runners to be self-sufficient with their race hydration and nutrition needs. Emergency water will be available at the marked stations along the course.
INSURANCE
The Great NOSH Footrace is covered by Orienteering NSW's public liability insurance. This does not include personal accident insurance. It is recommended to take out your own personal accident and ambulance cover for the event.
FIRST AID
St John Ambulance will be on hand at Seaforth. Course marshals will also be able arrange assistance should participants be injured on course and unable to complete the course. If you cannot proceed to a course marshal, please ask a fellow runners to alert the next marshal of your injury. A sweep will also be following behind the back of the race field and will be able to assist.
Should you be unable to finish the race, please do not arrange your own pick up without alerting a course marshal.
ORGANISERS
The Great NOSH Footrace is conducted by Orienteering NSW and Bennelong Northside Orienteers with assistance by other Sydney orienteering clubs:
Big Foot Orienteers
Garingal Orienteers
Southern Highlands Orienteers
Uringa Orienteers and
Western and Hills Orienteers.
Bennelong Northside Orienteers is the local club for orienteering on Sydney's northern beaches.
The event is only possible thanks to significant volunteer efforts of course marshals and helpers from the orienteering community. Please give them a smile and a big thanks as you run by.
Organisational support is provided by Bold Horizons. Email info@boldhorizons.com.au if you have any event related enquiries.
If you love trail running why not blaze your own trail at an orienteering event soon?
The Great NOSH Footrace is a fundraiser for the development and conduct of orienteering in NSW.